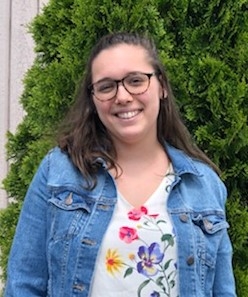 Sara Vega joined Infinity's team as a Job Shadow Intern in May 2019. This Spring she graduated with her Bachelor of Arts degree in Music Performance from Eastern Connecticut State University. Sara also completed coursework in the psychology field. Sara's primary instrument is voice in which she was classically trained at Eastern by Dr. Emily Riggs, with a focus in the past two years mostly on Romantic Era music. She has also spent the past few years studying piano under Dr. David Ballena. Sara spent her final year of undergrad studying the ways in which the supernatural is represented in Romantic Era German Lieder as well as how rap artists pose challenges for ideas of authenticity. 
Sara was involved in Eastern's Opera Workshop and Concert Chorale as well as the auditioned touring group, the Eastern Chamber Singers. Throughout her time at Eastern, Sara took part in music-oriented clubs such as Eastern's Music Society and SNATS (the Student chapter of the National Association of Teachers of Singing). Both clubs were active in the school community as well as the local community by providing musical events that benefited not only the student population but also local organizations such as the "No-Freeze" Shelter. 
Music has always been a passion of Sara's, but she began her college career as a psychology major with dreams of achieving her Doctoral degree as a clinical therapist. Once at school, Sara realized she wanted to focus more on music and discovered Music Therapy was the route she wanted to take. 
What is Sara hoping to learn this summer?
Sara is hoping that this summer will help give her a clinical insight into the field of music therapy prior to entering into a Master's program. She is hoping to learn about the field of music therapy in action that may not be covered in the general coursework. Sara is eager to sit on sessions and plan group singing exercises for her community music groups she will be co-leading.
Clinic Locations
Main Office:
196 Queen St.
Southington, CT 06489
Co-op Clinic:
125 Shaw St.
New London, CT 06320
Contact Us
General Questions/ Referrals:
Main Line (860) 518-5557
Fax (888) 200-4093
info@infinitymusictherapy.com
Schedule a FREE Consultation